Jurassic World: Dominion Dominates Fandom Wikis - The Loop
Play Sound
Invented by dwarves and perfected over centuries of tavern table play, Gwent is a game of initial simplicity and ultimate depth, something beloved by both road-weary travellers during long nights around the campfire and elegant nobles looking to liven up dragging dinner parties.[1]
Gwent (Polish: Gwint) is ancient dwarven card game mentioned in Baptism of Fire novel by Andrzej Sapkowski (as barrel for UK and US readers) and featured in The Witcher 3: Wild Hunt. On June 15, 2016 CD Projekt RED announced the development of a stand-alone GWENT: The Witcher Card Game. GWENT is available for PC, iOS and Android as a free-to-play game that puts you, not your cards, in the center of the action.[2]
Factions
There are six factions: Northern Realms, Nilfgaardian Empire, Scoia'tael, Skellige, Monsters and Syndicate. You choose one of these to play with provided that the set has at least 25 cards. Each faction set includes unique cards and leaders.
Thronebreaker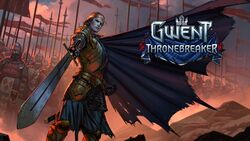 Thronebreaker is GWENT's single player story campaign.
The story focuses on Meve — a war-veteran queen of two Northern Realms. Facing an imminent foreign invasion, Meve is forced to once again enter the warpath, and sets out on a dark journey of destruction and revenge.
Players will explore new and never before seen parts of The Witcher world using an interactive map handcrafted specially for GWENT. They will embark on thought-provoking side quests and engage in custom-made story battles, which twist the game's rules in wildly unexpected ways. Players will manage resources, recruit and develop units, and build an army in their very own, customizable battle camp.
Thronebreaker features cards crafted exclusively for use in the single player campaign, each one uniquely tailored for storytelling purposes. Twenty new cards can be used in multiplayer as well.
Reception
GWENT: The Witcher Card Game received "generally favorable" reviews on Metacritic getting a metascore of 80/100 on PC.[3]
Videos
Notes & references